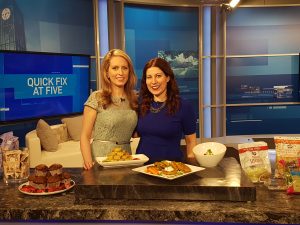 As you probably know, I'm a kind of a busy person. But I always make time for my family! And that includes meal time. I do not indulge in fast food routinely, preferring to eat healthy meals prepared at home as a family. There are, however, some great products out there that can make meal prep easier (meaning they save me time). Also, that have the added benefit of actually being GOOD for you too.
Ever found yourself wondering how to incorporate more veggies into your meals? I have the perfect solution:
Mann's new fresh Veggie Noodles and Veggie Rice.
Mann's veggie products come in steam-in-bags that are all prepped and ready to use – no more peeling or chopping! No time to spiralize your favourite vegetable like zucchini? Try Mann's veggie noodle options: Kohlrabi Linguini, Butternut Squash Rotini and Sweet Potato Fettucine. They're all chopped, prepared and easy to cook with and enjoy. Mann's Kohlrabi Linguini, which is the first and only out there, cooks and tastes just like pasta: it's twirlable, low calorie (25 calories per serving) and full of fibre!
Not in the mood for pasta? How about rice? Mann's new Fresh Veggie Rice products are made from a variety of colourful vegetables and are a great swap for traditional rice, with fewer calories and carbs per serving! The new veggie rice blends – including Cauliflower "Fried Rice" Blend and Broccolli & Sweet Potato "Rice" Blend and Cauliflower "Rice" – make it easy to prepare a ymmy fried "rice" or Cauliflower Pizza.
And when we are out and on the go, we like to pack our own snacks. Our go to for snacks is
MadeGood
. All their products are not only delicious but also nutritious, school safe and have a serving of veggies in each snack – but you would never know by their amazing taste! In addition to their well-known granola bars and granola minis, they also have delicious Crispy Squares that are not only a healthier alternative, but also the perfect combination of crispy and chewy. They even have chocolate chips that are ideal for baking.
The best part about these products is that I know I'm still making great meals for my family – I'm just cutting a few corners to have more time with them for other things. And these choices don't involve cutting back on health and nutrition, and that's something this mom loves!
If you want to get lots more tips and tricks on family meal prep, come to see the various exhibitors at  The Babytime Show, this weekend (April 26-29) at The International Centre. Catch me Live on Facebook April 26
th
 at 10am for an opening look at the show and more mom tips. See 
www.babytimeshows.ca
 for all the details.