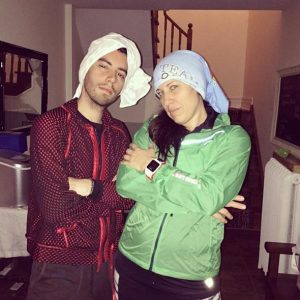 Hey guys! I'm sure you've been seeing me Tweet and Facebook and Instagram away about the Sporting Life 10 Km. I love fitness? Hello! I have Kinesilogy degree! (let's save the story for another day)
Back to the running. Camp Ooch also knows I love kids. I'm 2 short of a basketball team in my family. So when the team asked me to run to support their efforts in providing a fun and meaningful outdoor camp experience to kids affected by cancer…. I said hell yeah I'm in.  I also asked if they didn't mind if I walked and had a tea at some point in the run! Hey as long as I complete it right!? I'll be honest I've mapped out a McDonalds on the route as well!  If you see someone eating a Mcflurry and running…you know that's me! Ha ha!
Every dollar counts when sending a kid to Camp Ooch.  I need your support to ensure kids with cancer receive what every child deserves – the chance to be a kid.
Cancer changes a child's life, but so does Camp. Check out my link and thank you for your support!
http://www.ooch.org/sl2015/taylorkaye