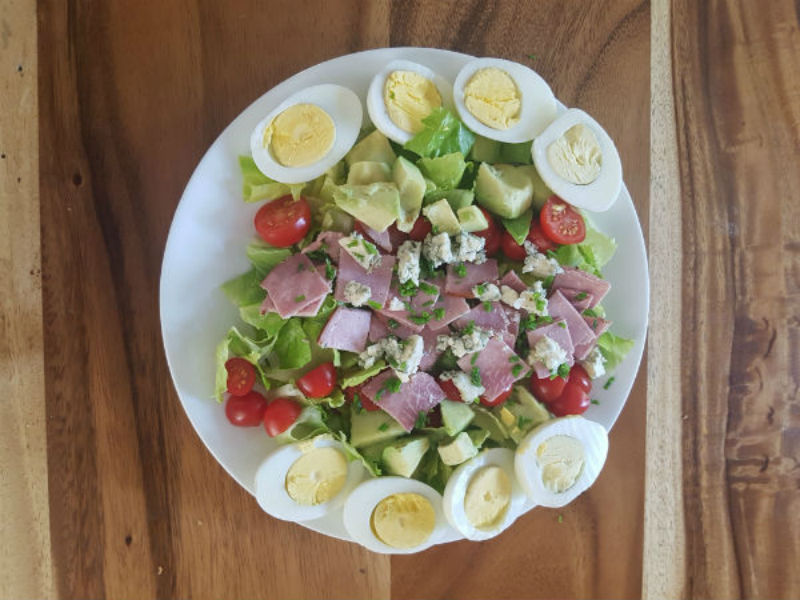 Move over Sandwiches
Back-to-routine for me means back to the kitchen with new ideas to get the kids excited about meal time. I want to raise the Special Kayes with the essentials they need in the kitchen. The girls are now 11, 8, and 7 (yup JRo just had her bday) and they can start using bigger tools and the "big" girl knives as my eldest calls them. My girls are looking for something new and exciting in their lunches, because, lets face it, a sandwich can get pretty boring. What better way to ensure your kids like their lunches than by involving them in the decision process and avoid boomerang lunches. You know the lunches you pack but come back to you after school not eaten! Believe me, we've done sandwiches and rolls, so this week we decided to try cobb salad and quesadillas with a little twist. Let's just say that I didn't even have any cobb salad left for work because the girls scooped it up for school.
For their afterschool snack, we made what I'm calling Hawaiian pineapple and ham quesadillas. I literally put them down on the table and in a micro second they were inhaled!  The girls and I love to change up the meats we eat during the week. When I found duBreton Organic Sliced Ham, I was pleased that it is free of nitrates, added preservatives, made with pork raised without antibiotics. It is also certified humane, where pigs are raised with a simple philosophy: Allow pigs to be pigs! AND it has a price point that was affordable. I partnered with duBreton and I created these meal prep recipes and added ham instead of some other proteins you find in your salads or quesadillas. I would love for you to try the recipes below and let me know what your kids think of them. OH, and here's a small kitchen tip: use scissors to evenly slice the ham! They are perfect for big and tiny hands and are fun for kids! Get them in the kitchen and involved!
Cobb Salad
1 tsp salt
1 tsp freshly ground black pepper
2 heads romaine lettuce, coarsely chopped
4 hard-boiled eggs, peeled and quartered
5 slices of duBreton ham cut into small squares
6 slices bacon, cooked and crumbled
2 avocado, thinly sliced and diced
4 oz. crumbled blue cheese
5 oz. cherry tomatoes, halved
2 tbsp. chopped chives
This is pretty simple. Slice and dice your salad. I put everything into small bowls so the girls can add what they want to make it into their own cobb salad. Sometimes they want blue cheese, sometimes they don't.  Just make sure they even it out and get their protein for the day. Also, feel free to add whatever dressing you want. We aren't picky in our house. One of my girls likes blue cheese, one likes poppy seed and the other likes oil and vinegar. I like to give the girls choices and then they will eat their lunches! It's not a restaurant in our house but I do give them the options to add or take away in the one meal we are making. So for the cobb salad they can switch up the dressing. As long as they are eating that salad.
Hawaiian Pineapple Quesadilla's
4 large flour tortillas
1/2 cup Monterey Jack cheese (shredded)
2 slices of duBreton Organic Sliced Ham cut into small pieces use the scissor method above
1/2 cup small tomatoes (cut in half)
4 pineapple slices (thinly cut)
Optional: 2 tablespoons chopped green onion or chives
pepper to taste
Vegetable oil for brushing tops
Pre-heat the oven to 425 F.
Lightly spray a cookie sheet with vegetable cooking spray or use aluminum foil
Arrange two tortillas on the cookie sheet, then evenly top with 1/4 cup of the cheese
Top the cheese with the duBreton sliced ham, the diced tomatoes, green onion or chives and feel free to add even more cheese on top if you like
Sprinkle each with a little pepper, then cover each with another tortilla.
Brush the tops with vegetable oil and bake in a 425 F oven for about 10 to 12 minutes, until browned.
Cut quesadillas into wedges with a pizza cutter serve with your fave salsa, ketchup, mayo whatever your kids like for dipping sauces