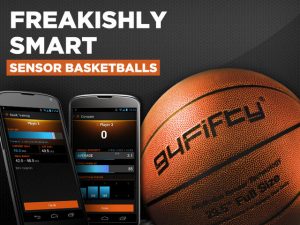 Welcome to Day 16 of Taylor Kaye's Giveaway. Today is the day you get your game on! Check out the 94Fifty basketball! It's a smart sensor basketball! The list of what the ball can do is below and it's ahhhmazing! All you need to know is it's going to improve the way you play! Please enter  below by 7am December
18th. Please read all Rules and Regulations at Rafflecopter. You must be a resident of the GTA and you must be 18 years of age. Good Luck! Make sure you scroll to the prize you want to enter via Rafflecopter! There are 3 amazing prizes being given away right now.
This contest is now closed. Congrats to Adam R from Pickering!
What can this ball do? First visit the kick-starter page! It's also avail at Sport Check!
Instant feedback – shot by shot or every dribble
50 different head-to-head competition choices
Skill-based leveling workouts that get more difficult as you improve
QuickTrain shot analyzer for shot speed, shot arc, and backspin
QuickTrain ball-handling for power dribbling, speed dribbling, and off-hand dribbling
Stores workout and competition history for up to 4 players for 3 months
Indoor/Outdoor synthetic leather cover
Wireless recharging and up to 8 hours of battery life
Up to 90 ft. range from hand held