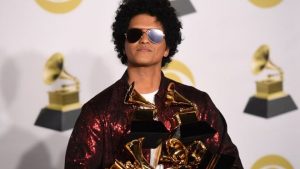 Want to know the 411 on last night's show! The Grammy's were last night and Bruno Mars took away a truck load of awards. Brampton's Alessia Cara  won best new artist and was the only female to accept an award on the live broadcast last night.  What else happened in the show! For the celebs who didn't go home with a Grammy, no worries they got a $30,000 Grammy swag bag. Well guess what? YOU can get to live like a celeb and we have some of the goodies that were in the bag. Approximately, $1000 with of prizes for you! Check out the video below and the descriptions.  Enter online. The link is below. The contest is open to Canada and US residents over the age of 18 and closes on Friday at midnight. Good luck!
a Rafflecopter giveaway
CURLEE GIRL
Children's book, empowering young girls to love all their unique features.
GOODKARMS
A plant for individuals to plant as a way of giving back.
SIXTH SENSE LAB
Beauty and wellness package to help with detoxing, carb restriction, deeper sleep, bliss and anti-aging.  Featuring Euglena, CutCut and Theanine Night supplements.  Euglena is a super supplement containing 59 kinds of nutrients and with an ideal amino balance.  CutCut is a popular carbohydrate restriction supplement with a 95.2% repeat purchase rate.  Theanine, an ingredient found in green tea, supports more restful sleep and general anti-aging.
SAFI KILIMA TANZANITE
This trendy bracelet features five tantalizing oval tanzanite stones joined by an infinity motif and finished with a unique sliding adjustable clasp.
LUMIDIET
LumiDiet is a personal wearable light therapy diet belt which uses LED technology to break down and burn abdominal fat cells in our body.  Scientifically designed to help people shed pounds more effectively in a shorter period of time, the product allows people of all body types to achieve their goal weight and body image with little effort.
HAPPIEST TEE
Happiest Tee lets you celebrate your favorite destinations in style and luxurious comfort. Whether a celebration of your hometown, a memento from a fabulous vacation or a gift for that friend with a passion for travel, a Happiest Tee is the perfect choice.  www.happiesttee.com
Happiest Tee is proud to partner with the Stands fundraising community which raises significant funds for worthy causes worldwide.  For more information visit www.shopstands.com.
OXYGENETIX
A year's supply of revolutionary Oxygenating Foundation (breathable formula that promotes healing and provides complete coverage) and Oxygenating Hydro-Matrix.
CO2LIFT
CO2Lift by Lumisque is a state of the art carboxytherapy treatment mask, clinically proven to Lift, Hydrate, & Rejuvenate the Face, Eyes, Neck and Hands with immediate results and no downtime.