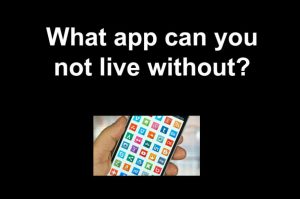 What apps can you not live without? Business Insider did an article about the 10 apps Millennials  can't live without right now. Instagram, Facebook, Gmail and Messenger topped the list.
However, as much as I want to feel connected to friends and family I also use my apps to outsource my life! Yup, it's one of my "words" for 2018. "OUTSOURCE".  Our phones are a blessing and a curse (come on we're all a bit addicted). I use my phone to get more stuff done in the day and occasionally I creep my friends and family on insta and facebook ( like you don't!).
So what app's do I use to outsource? I'm willing to try anything that will make my life simpler. Whether you work at home, stay at home or work out of home. Whether you have kids or not these apps will free up more time for you to do stuff you want to do.  Below is my list. Please feel free to comment and add apps that I should try out!
MY Fitnesspal  I try and track my food and fitness to stay on top of my day. Yes it can go sideways but if I track 5 out of 7 days it's a good week for me. If I miss tracking right at that moment I track before I go to bed.
Starbucks – I try and spend as much time as I can with my kids before I go to work. However, when I'm leaving for work this is the one thing I treat myself to. Not daily! When I want a sweet treat or the new yummy sous vide eggs that are high in protein and low in calories I pre-order on my Starbucks app.  You  order, pick your location and it tells you how long it will be to pick it up.
Green P app – If your not from the GTA this is our automatic parking app. You load the app with 20 dollars and you can just start parking. How many times have you dug around for change for a parking meter and you can't find it. I've used apps like this in LA and in Boston and was so excited when Toronto finally jumped on the parking app bandwagon. It also helps you track how much you spend. So when you submit to your accountant at the end of the year you have a tally. No more looking for those pesky parking stubs.
Walmart – There are so many grocery apps out there and I've used them all. Walmart makes it easy for me. I order bi-weekly and I pick up my groceries on my way  home from work or when one of the #specialkayes activities. YOU can shop for anything. Someone else does the shopping for you. Now, it's not like I never go shopping I do and I shop local in my hood to. We shop at our local fruit and veggie store a couple times a week with the kids.  I will say that using the app has helped me stay on budget. Usually, when I go into a store there are those "temptations". When you do it online it's really easy to hit that delete button! Plus, it's impossible to take my kids shopping. It usually ends in an argument with my kids and some shopper saying to me " I remember those days". OK thanks but no thanks for the teachable moment.
Google Maps/Waze  When I started my radio career I was a traffic reporter. It was not my fave thing to do. I also hated reading maps on road trips. Do you remember going on road trips with your parents? My mom would run to CAA and grab a bunch of the same map because at some point coffee or tea would be spilled on it and we were not able to read it. Google Maps and Waze have saved my relationship with my hubby ha ha. Whenever we have no idea where we are I say it's Waze's fault.
Share your fave apps with me below!