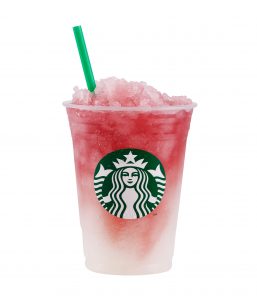 This is pretty exciting starting today at 3pm Starbucks is offering a special Sunset Menu! Ok so what the heck is a Sunset Menu?  They have five new handcrafts treats including Granitas above and Trifles. 
What is a Granitas?  It's similar to Italian Shaved ice! It's semi-frozen ice in a pool of espresso, tea or lemonade. Available in three flavours: Caramel Espresso, Strawberry Lemon Limeade and Youthberry® White Tea.
AND   who doesn't like tiramisu?! Starbucks trifles are a lighter version  of tiramisu!  Available in two varieties: Chocolate Brownie and Strawberry Shortcake. Um, I'll take both please!
Want to try them out?  Enter below to win a $50 dollar Starbucks Gift Card!  The winner will be picked on Friday morning. Just in time for you to enjoy your delicious treats with a friend on the weekend!  Good luck Enter daily and enter often!
Remember to always be awesome and do amazing  things today!
Team Taylor!