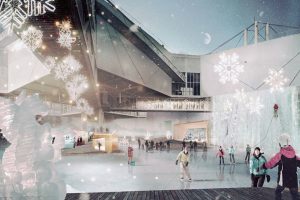 Woot Woot! Finally something is being done with Ontario Place for the winter. Staring today til  March 18, if you head down to Ontario place you'll be treated to my favorite F Word "FREE"! A free winter festival right beside lake Ontario.  There will be a synthetic ice rink. I know what you're thinking! Synthetic rink? Well. the ice won't melt when we have some of those warmer days in December!  AND no zamboni is needed so no wait times. That's a bonus. Plus, at the festival there are a ton of stunning light installations. A light festival will feature installations by local artists, and if you're hungry you know there will be some yummy treats like there like poutine and beaver tails! You can burn off those calories from the food by skating!
Where is your fave place to head in the winter?
Here is info from the Ontario Place website for times and prices for skate rentals etc.
Skate Rentals
Children (12 & Under) – $5.00*
Adults (13+) – $10.00*
*Skate rental pricing is based on a two-hour rental.
Skate Sharpening – $5.00
Rink Admission – FREE
Hours of operation:
Friday 6pm – 11pm
Saturday & Holiday Weekdays 10am – 11pm
Sunday 10am – 8pm
Christmas Eve 10am – 4pm
Christmas Day Closed
New Years Eve & New Years Day 10am – 4pm
Family Day Monday 10am – 4pm